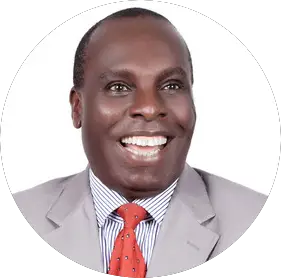 Dr. Leesi Gabriel Gborogbosi
Founding Partner and CEO
Leesi Gabriel Gborogbosi is the Founding Partner and Chief Executive Officer of Gabriel Domale Limited (Management Consulting). He is responsible for all aspects of the firm's strategy, business development, teams and operations across all network of client offices.
Leesi leads the firm in its mission to deliver the best value-based client results in the management consulting industry. Over the course of 26 years at Shell Nigeria (of Royal Dutch Shell - a global oil & gas company) prior to founding Gabriel Domale Consulting, Consulting), he has served in a variety of leadership and managerial roles, including most recently as the finance manager, portfolio of major capital projects. Before that, he was deputy business finance manager (oil production); head, business controls & SAP compliance monitoring; knowledge management advisor (finance consulting & contracting transformation); and deputy head, corporate budgeting. He was also a member of the corporate strategy, planning, budget, and reporting team.
Based in Nigeria, Leesi has a long and successful record of helping diverse functions to develop collaborative relationships with key stakeholders in order to execute strategy effectively. He has collaboratively led finance function in mid-construction, technical value assurance review audit, claims audit, finance transformation and knowledge management sessions, quarterly projects performance reviews, and business planning with a focus on capital efficiency, cost and milestones deliveries for a portfolio of seven projects (circa $8bln headline size) for a culturally diverse global audience.
Leesi has a doctorate degree in strategy and another doctorate degree in business studies from IE Business School, Madrid. He received MSc (Research Methodology in Management) from IE Business School, Madrid and an MBA (Finance and Banking) from University of Port Harcourt, Nigeria.
He leverages his professional experience as a Certified Management Consultant (CMC); Fellow, Institute of Chartered Accountants of Nigeria; and The Institute of Management Consultants. Also, he is Member of the Chartered Institute of Purchasing & Supply, London; Nigerian Institute of Management (Chartered); and Strategic Management Society, Chicago, United States.
He has a keen interest in research and writing conference papers. His papers were nominated for the best conference paper prize awards of the Strategic Management Society conference in 2017 (Houston) and in 2015 (Denver). He was appointed the Chair for the Session on "Leading change implementation processes" at the Strategic Management Society conference in Denver, United States in 2015.
Dr Leesi Gborogbosi has about three decades of leadership experience in the oil and gas industry. He is an expert in finance, strategy, corporate governance, transformation, cost reduction and leadership training.
Contact: leesi.gborogbosi@gabrieldomale.com | www.gabrieldomale.com | +2347034604152


Download My Profile ==>> PDF
How can we help you?
To discuss how our team can help your business achieve true results, please
Contact us